September 9, 2014
In the wake of the Kentucky Wildcats' 5-1 eight-day run through international opposition in the Bahamas, college basketball analysts stateside are marveling. Journalists who've seen hype fail to materialize time and time again are now writing and speaking words that, to all other schools' fanbases, have to read like warnings that a large mutant lizard is shuffling over from Japan.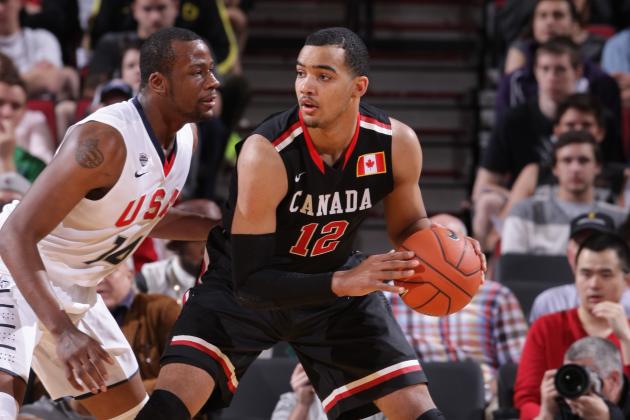 The absence of junior center Willie Cauley-Stein and freshman power forward Trey Lyles has been a frequent topic of discussion, but always in a "how good will UK be when these guys are back" context. While Cauley-Stein's experience can buy him minutes when the season begins, Lyles has no such buffer.
College basketball's newcomers have to enjoy overseas trips not only for the cultural experiences, but the chance to gain early familiarity with their new teammates. Lyles missed out on that opportunity in the Bahamas, which makes him a very real candidate to be left behind, trailing the other eight former McDonald's All-Americans on the roster.
How far behind will Lyles be when practice starts in October? Only the coaching staff knows for sure. By the end of the season, though, Lyles should be a key part of the rotation even if he never starts a game.
Invasion of the Glass-Eaters
Lyles isn't the explosive above-the-rim defender that Cauley-Stein and Marcus Lee are. He's not the burly earth-mover type like Dakari Johnson. He's not a threat to spot up and hit a three from the Rupp Arena concourse's Dunkin' Donuts stand the way Karl Towns is. Finally, he's not a respected perimeter defender a la Alex Poythress.
So what is he?
Primarily, Lyles is the only truly skilled low-post scorer whom coach John Calipari has in this all-stud stable. His footwork is strong and his array of moves and counter-moves dwarfs that of his more athletic teammates.
In a half-court offense, Lyles is UK's only real threat to score on a lefty hook or a turnaround jumper. Towns possesses the ability to do so, but he'll need to prove that he's willing to fight through the constant contact. Inasmuch as that's a major facet of UK's offense, Lyles will be a valuable piece.
Last season, though, most of Kentucky's baskets near the rim came on drives and offensive rebounds. Based on Hoop-Math.com's figures, only 32 percent of Kentucky's two-point baskets were assisted last season. A further 17.2 percent came on putbacks.
Lyles is a capable offensive rebounder, but so are Cauley-Stein, Lee, Poythress and Johnson. The latter three combined for 36 offensive boards in the Bahamas, with Towns chipping in another 15. If Calipari feels that he can count on this sort of dominance against American college teams, Lyles could be in for a long season.
After all, a missed perimeter jumper can still be a great offensive play with athletes of this caliber patrolling the glass.
Calipari can tailor an offense to fit the strengths of his talent, so will he do so when Lyles is in the game? The Canadian's playing time will increase if Calipari detects a need for more skill in the paint and greater overall efficiency within the offense.
Some of the better opponents on UK's impressive schedule, after all, won't surrender 58 points in the paint and 14 dunks like the Puerto Rico national reserves did.
Desperate People
The biggest concern surrounding the Kentucky offense is spacing. With so many players of limited shooting range, what's to stop UK's opponents from simply packing the lane and daring the Wildcats' few snipers to hoist up threes all night?
Eventually, the arms are bound to tire on Towns, Aaron Harrison and Devin Booker, right?
While Lyles has shown an ability to stick the open three, it's not the strength of his game. Where he can excel, however, is in the mid-range game out to about 17 feet.
A big opponent like Texas—last season's No. 6 offensive rebounding team per Ken Pomeroy (subscription required) and a club that has only gotten stronger this offseason—could work wonders in keeping Lee or Cauley-Stein off the offensive glass, blunting their scoring impact. Those games are where Lyles' and Towns' ability to pull big men away from the basket will be most essential.
Against teams possessing less length and bulk than the Longhorns (read: nearly all of them), the UK big men will face a steady diet of double-teams. Even if Lee, Cauley-Stein and Johnson can haul in an offensive carom, can they make the correct pass out of the post when they're swarmed?
Again, Lyles and Towns are more skillful players than their veteran teammates, lacking only the experience and awareness of teammates' tendencies. The Bahamas trip showed that Towns is already picking up the offense, judging by his 11 assists, which tied for third on the team. Dominique Hawkins, the erstwhile emergency point guard, dished that many in only six fewer minutes.
Lyles is still behind the curve thanks to his health problems, and the preseason practices in October will be pivotal for him.